CELEBRATING APPRENTICES IN CONSTRUCTION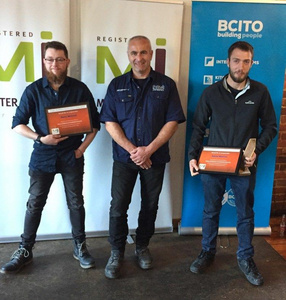 Celebrating Apprenticeships, Training and being Qualified in the construction industry in NZ

Our Apprentices Adam and Rory from #mastercraftkitchenssouthland had an awesome evening at the recent Graduation in Dunedin with BCITO , Registered Master Joiners , their family and employers
(Adam and Rory pictured with Nigel Molloy) 😊.

Well done Adam and Rory on achieving your BCITO Apprenticeship in Joinery, we are all so proud of you!

AND a big shout out to Adam on wining the Otago Southland Joinery Apprentice of the Year and recipient of the prestigious Hanning Award. Very well deserved!!!!