Meet our kitchen designers and qualified joiners
Mastercraft Kitchens Southland by Nigel Molloy Joinery has been delivering quality kitchens and joinery throughout Southland & Otago for 20+ years
At Nigel Molloy Joinery, we value our customers and love working alongside you to design your dream kitchen and joinery ideas then turn them into reality
We take pride in your project from whoa to go to get it right for you!
We love our work and look forward to working with you, so you will love it too!
Our joinery factory is the largest manufacturing factory in our region. We enjoy designing, manufacturing and installing all scales of projects from the budget conscious, right through to the high end, specialised multi-million-dollar projects
We can measure, design, quote, manufacture and install anything in your home, kitchens, bathrooms, laundries, pantries, scullery's, wardrobes, holiday home, business, boat and your caravan
Our talented design team work with you to ensure you have the best design for your space and your budget. Come and meet our kitchen designers and qualified joiners
We specialise in all joinery including:
Kitchens new, a refresh or a restoration
New house builds including bathrooms, laundry's, wardrobes etc
Shop Fittings and fit outs
Commercial joinery including bars, restaurants and cafes
Joinery for caravans, tiny homes, boats and boat fittings
Glazing
Stairs and stairwells
Bench-tops
Kitchen centre islands
Doors and entrance ways
Shields and wooden cabinetry
Wood and anything to do with wood
Nigel Molloy Joinery Ltd are also Mastercraft Kitchens Southland
https://mastercraft.co.nz/kitchens/locations/southland/
and we are Registered Master Joiners
We offer a
measure and quote
service for you using the latest technology, so you can see in 3D imaging what your project will look like and we are very happy to price any job you are planning

We look forward to working with you to achieve your dream, award winning, designer Kitchen and Joinery!
The team from Nigel Molloy Joinery at the Registered Master Joiner Awards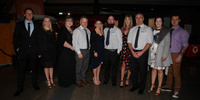 The team from Nigel Molloy Joinery was proud to attend the 2019 Registered Master Joiner Awards evening held in Invercargill
The aim of the Awards is to promote excellence in joinery, to encourage the use of sustainable timbers and best practice, and to showcase the finest work from the industry. These are the largest industry awards of their kind in New Zealand.
We thoroughly enjoyed our evening and looking forward to the next one. Well done everyone!