2019 Master Joiner Awards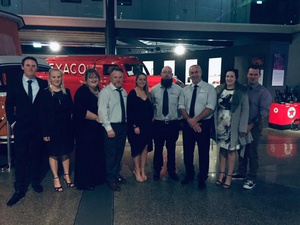 The team from Nigel Molloy Joinery was proud to attend the 2019 Master Joiners Awards evening held at the Bill Richardson Transport Museum in Invercargill

The aim of the Awards is to promote excellence in joinery, to encourage the use of sustainable timbers and best practice, and to showcase the finest work from the industry. These are the largest industry awards of their kind in New Zealand.

Judging criteria of the NZ Master Joiner Awards includes design, quality of workmanship, use of materials, complexity of project, and visual appeal. Kitchen design is judged on the WOW factor, cutting edge design, practicality, and creative use of materials and colour.

The judges commented:
"There has been very high interest this year in the Master Joiner Awards, and we congratulate all contestants on their efforts. This competition has shown that winners can come from all sized projects, from those with an endless supply of money to those of very modest means. It is heartening to see the pride in our trade and the skills we can offer our clients."

We thoroughly enjoyed our evening and looking forward to the next one. Well done everyone!